I have so much to catch up on and I haven't had much luck getting the pictures of the camera but I finally managed, so here come the posts!!!! We have been busy, busy, busy, since we came to Canada but we are also finding time to kick back and relax!
I wish I had a few pictures of the night we got here but I wasn't awake enough to remember my camera! We came home had a nap and the went straight over to Grandma Sandra's to see Aunt Marla and here family who were up from Texas. It was our first night in town and their last so we didn't get to see a lot of each other but at least our paths crossed! Of course I wasn't very quick with the camera but I spent a morning at Lana's this week snapping a few shot's of Miles and Bree, born just 8 days apart.
On Wednesday we had a Fairbanks family BBQ. Not everyone was able to make it but we had a pretty good turn out. Everyone seemed to approve our our new little man and he didn't disappoint with all his cute little smiles. Mom and Dad put together a great meal and we all had a blast watching the kids play and catching up.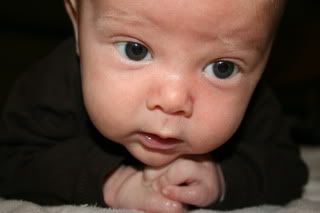 Of course half way through the evening he got hungry and came back looking like this......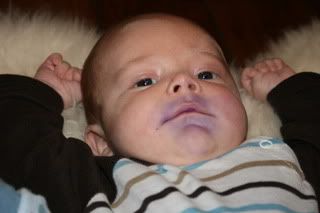 Just as cute as ever I say! Miles and Cru were born one week apart. they are 2nd cousins and look nothing alike, lol. I do see one similarity, the are both going to be HEART BRAKERS!!!! Aren't they so handsome?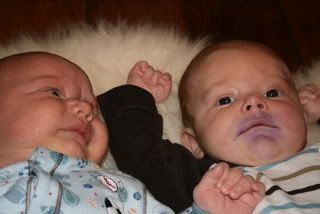 One of AJ's favorite parts about being at Grandma & Grandpa Peterson's house is playing with the dogs, Angus and Zoe. Angus is a 3 year old little Yorkie who spends most of his day hiding from AJ and seeking attention from anyone else willing to give it. Zoe on the other hand is a 10 month old Boarder collie full of energy and eager to play with anyone who has the time.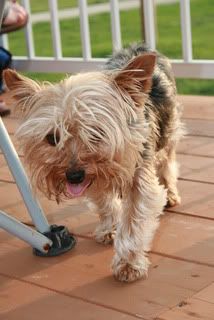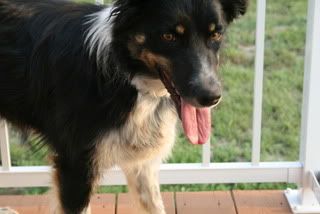 Here we are Sunday night out on the deck with AJ, Miles, and both puppies. It was a beautiful night to sit and relax but Zoe had other plans! Here she is attacking the boys after getting all slobbery in her water bowl, lol, perfect timing on the picture!
We had a great time sitting out on the deck. Unlike Portland it actually cools off here in the evenings so you want to go outside.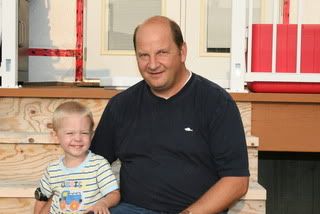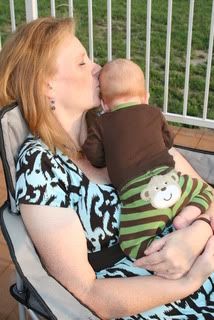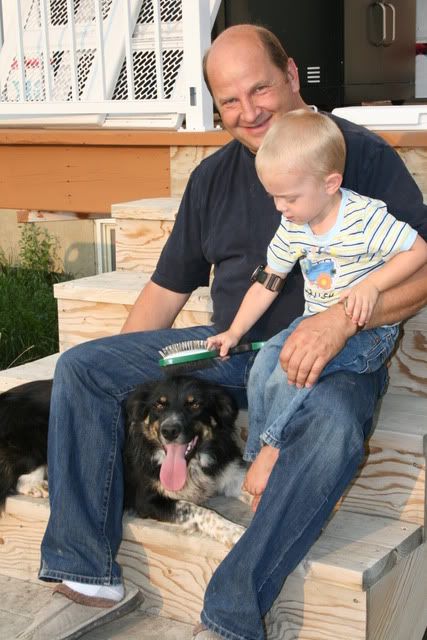 And even when there's no time to take the Dogs out for a walk Grandpas a good sport and let's AJ take HIM for a walk, ha ha.